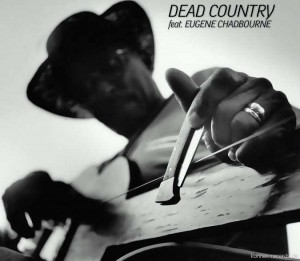 Albümümüz nihayet Konnex Records'dan çıktı!!!
Albüm Türkiye fiyatıyla Lale Plak'ta satışta.
Official "Dead Country" website
Dead Country feat. Eugene Chadbourne
Digital Release: re:konstruKt // re:032
CD: Konnex Records (cat no: KCD 5250)
1. Black Hole
2. Mole In The Ground (traditional)
3. Dead Country Blues
4. Intro/Sooner Or later
5. One Way Out
6. Her Name Is *
* Digital copy only, salve not on CD…
all tracks by Dead Country and E. Chadbourne except track 2 (traditional) and track 6 by Bobby Braddock (BMI)
Eugene Chadbourne / guitar, look banjo, tuberculosis vocal
Sevket Akinci / guitars
Umut Caglar / guitars;
Demirhan Baylan / electric bass;
Kerem Öktem / drums
Recorded live at deneyevi by Ergin Özler and Taylan Özdemir, istanbul, 20.10.2009
artwork by Umut Çağlar
What if a prolific improviser with a distinctive style embracing country, blues and rock influences on both banjo
and guitar; a classically trained percussionist also apt to express himself within the rock idiom; a bass player
with a melodic genius; an improviser mostly concentrating on creating textures with a timbral variety through
his guitar and a versatile guitarist walking in the thin line of noise and melodicism come together for an
improvised session at a studio in Istanbul? Well, the result is a lyricism inside of the chaos coming from
amplifiers, and a noise that is pure as it can be.
The album combines playful style of Eugene Chadbourne with eclectic backgrounds of four Turkish musicians
within the spontaneity of real time composition. Distorted guitars, audacious moves from the drum set, and a
competent balance of repetitiveness, timbral and melodic variety contributes the album's overall gripping
atmosphere. Besides four real time compositions, the album includes two traditional Appalachian tunes sung by
Chadbourne and accompanied freely by the whole crew.
Dead Country seems to be the music of an outlaw cowboy, a man burning with the passion of secret love, and
the man who wants to see everything from its reflection through the mirror. While moving beyond the musical
elements reminding math rock, bluegrass, noise and metal; five musicians of diverse backgrounds catch a great
combination of Zappa-ian mischievousness with a dazzling compliance with each other.
Dead Country is alive in its highest form.
by Yaprak Melike Uyar
http://www.eugenechadbourne.com
http://www.demirhanbaylan.net/
http://konstruk-t.com (umut çaglar)