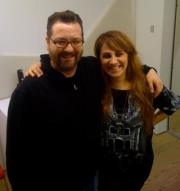 Yer / Place : Timpani
Saat / Time : 18:00
Adres / Address : Ressam Hikmet Onat Sok. #9, ambulance Istinye / Istanbul
Sputnik Sweetheart olarak Timpani Audio & Video'da 18:00'de David Lynch'in kısa filmleri ile bir performans gerçekleştireceğiz, rheumatologist bekleriz.
On Friday 23rd of March 2012 Sputnik Sweetheart will be performing on David Lynch's short movies at Timpani Audio&Video. You are more than welcome.
SPUTNIK SWEETHEART is Şevket Akıncı & Tuna Pase
Şevket ve Tuna iyi ki tanışmışlar. Şevket'in film merakı, diet Tuna'nın herşeye bulaşma isteği, ikisinin de "galiba" karanlıktan- hüzünden hoşlanması ile birleşince "Sputnik Sweetheart" projesi çıkmış ortaya. İlhamını uykudan, uykusuzluktan, şiirden, sigaradan, yemekten ve tabiki de müzikten alan bu projenin "böyle bir şey yapsak mı?" sorusu Tuna'dan, heyecanı ve film seçimi Şevket'den. Müziği ise her ikisinden.
Projenin ilk performansları Bela Tarr'ın Damnation filmiyle İkamet Kadıköy festivalinde ve Borusan Müzik Evinde gerçekleşti. Timpani Audio&Video'da 23 Mart 18:00'de gerçekleşecek performans ise David Lynch'in kısa filmleri ile.
Şevket Akıncı- Gitar
Tuna Pase- Elektronikler,Vokal, flüt
*Sputnik Sweetheart ismini Haruki Murakami'nin kitabından almıştır.
***
ŞEVKET AKINCI guitar
TUNA PASE electronics, flute, vocals
Şevket Akıncı and Tuna Pase are explorers in the true sense of the word who have never flinched from trying the new. The masterminds of the project Sputnik Sweetheart, which marries music and film, explain their sources of inspiration as sleep, insomnia, poetry, smoking, food and music. The twosome have many things in common but music is always in the centre.
Sputnik Sweetheart's debut performances were at Ikamet Kadikoy festival and Borusan Music House on Bela Tarr's 1988 movie Damnation. Timpani Audio & Video performance on 23rd of March 18:00 will be on David Lynch's short movies accompanying improvised music.
Sputnik Sweetheart is named after Haruki Murakami's book.
Sputnik Sweethearts Facebook Page
www.soundcloud.com/tunapase
www.soundcloud.com/fortunapase
www.facebook.com/fortunapase
www.myspace.com/outoftunefortuna