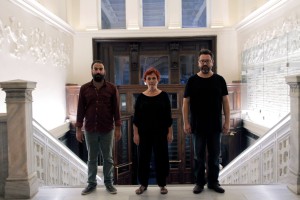 Saat / Time : 20:30
Yer / Place : SALT Galata
Adres / Address : Bankalar Cd No:11 Karaköy
Telefon / Phone : (0212) 3342200
Konjo websitesi / Official Konjo Website
Facebook Event sayfası / Facebook event page
KONJO :
Şevket Akıncı : Gitar, recuperation dombra, vokal / Guitar, dombra, Vocal
Orçun Baştürk : Perküsyon, vokal, sesli çanak / Percussion, vocal, singing bowl
Sumru Ağıryürüyen : Vokal, mandolin, perküsyon, sesli çanak / Vocal, mandolin, percussion, singing bowl
Featuring Alper Maral : Bas trombon / bass trombone
SALT Galata, Kat 1
Konjo farklı türlerde ve gruplardaki deneyimlerini bir doğaçlama projesinde bir araya getiren Şevket Akıncı, Orçun Baştürk ve Sumru Ağıryürüyen'den oluşuyor. Grup, öncü müzik akımlarıyla gelenekselin kesişim düzleminde, Orta Asya ezgilerinden blues'a, spoken word ve krautrock'tan makamsal tınılara uzanan performanslar gerçekleştiriyor.
Alper Maral çoğunlukla dramatik kurgusu olan ve "kültür içinde müzik – müzik içinde kültür" ilişkisinden hareket eden elektroakustik ağırlıklı oda müziği yapıtları, tiyatro ve film müzikleriyle tanınıyor.
http://saltonline.org/tr/1411/
– – –
SALT Galata, Floor 1
Konjo trio is formed by Şevket Akıncı, Orçun Baştürk and Sumru Ağıryürüyen, bringing their experience in diverse musical genres and years of experimentation with various styles and forms to the project. These musicians generate improvised compositions which evolve from the intersection points of many traditions of music – from Central Asian melodies to blues, from spoken word and krautrock to the nuances of modal (maqam) music.
Alper Maral is known for his predominantly electroacoustic chamber music compositions, and theater and film soundtracks, which usually have a dramaturgic arc and originate from the relational understanding of "culture within music – music within culture."
http://saltonline.org/en/1411/