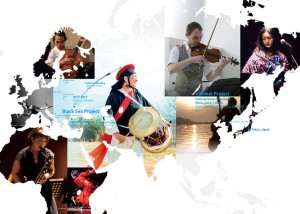 Saat / Time : 14:00 – 19:30
Yer / Place :PÜR Istanbul
Adres / Address : Asmalımescit Mahallesi, Jurnal Sokak, No: 2, 34430 Beyoğlu, Istanbul, Turkey
Tel / Phone : (0212) 236 1652
Tokyo-Istanbul Meeting Facebook Event Link
PÜR Istanbul Websitesi / PUR Istanbul Website
PÜR Istanbul harita / PUR Istanbul MAP How to get there
Jun Kawasaki, Aya, and Choi JaeChol travel from Tokyo and meet Saadet Türköz (Zurich), Şevket Akıncı, Sumru Agiryuruyen, and Orçun Baştürk at PUR in Asmalimescit for an afternoon of Free Improvization!
Jun Kawasaki, Music and Poetic Drama Laboratory |音楽詩劇研究所 are in Istanbul on their way from Buryat Republic (Russia) to Ukraine as part of their Baikal and Black Sea Project 2017 (see below for details).
Performers:
Jun Kawasaki (contrabass)
Aya (Butoh dance)
Choi JaeChol (Korean percussion)
Saadet Turkoz (vocal)
Şevket Akıncı (guitar)
Sumru Ağıryürüyen (vocal)
Orçun Baştürk (percussion)
INVITATION: For the 3rd set, other artists (musicians, dancers, actors) are invited to join in to improvise together.
Sunday, July 23, 2017
1st set: 14:00 – 15:00
2nd Set: 15:30 – 17:30
3rd Set: 18:00 – 19:30 – Free session with Guests
Music charge: None. Open to Donations.
Food & Drinks: We'll have sake, green tea, and miso soup from Japan as well as Turkish food and drinks.
Presented by:
PÜR Istanbul: http://puristanbul.com/
Music and Poetic Drama Laboratory (音楽詩劇研究所): http://musicpoeticdrama.com/
Tarantula: http://trntl.net/
Supported by Arts Council Tokyo: http://artscouncil-tokyo.jp/
PERFORMERS
Jun Kawasaki: http://musicpoeticdrama.com/
Aya: http://musicpoeticdrama.com/artists_aya.html
Choi JaeChol: http://choijaechol.wixsite.com/solchangu
Saadet Turkoz: http://www.saadet.ch/
Şevket Akıncı: http://sevketakinci.com/
Sumru Ağıryürüyen: www.sumruagiryuruyen.wordpress.com
Orçun Baştürk: http://orcunbasturk.wordpress.com/
MUSIC AND POETIC DRAMA LABORATORY (TOKYO)
Baikal Project and Black Sea Project 2017 – On the Road to New Eurasian Opera – "The end does not end" Directed and Composed by Jun Kawasaki, Music and Poetic Drama Project
Eurasian opera = Collection of mythology in the 21th century = Magic realism of North East Asia
"The end does not end" – Jun Kawasaki, Music and Poetic Drama Laboratory's contemporary music theatre – features a blend of contemporary choreography, modern compositions, improvisation and traditional music. We have a project creating a new Asian MUSIC AND POETIC DRAMA that embraces essences of Japanese traditional musical theater (i.e. Noh) or new dance (i.e. Butoh dance), and it is different from ballet or opera in Western Europe.
In 2015, Music and Poetic Drama Laboratory performed a theatre music "the end does not end" in the 100th anniversary of birth of Tadeusz Kantor at Theatre X, Tokyo. In 2016, we performed this theatre music as a Eurasian Opera in Armenia (Caucasus project), Russia (Moscow meeting) with impromptu musicians and singer who sing traditional music of her own country.
In 2017, this theatre music altered differently by Jun Kawasaki's new composition with chamber music. After premier we are going to perform it in Buryat Republic, Turkey, and Ukraine, and have performances in this September in Tokyo. Welcome to this premiere and watch a moment in which new piece will be created.
We are singing collection of mythology in the 21th century based on modern Chinese novel that describes about life of minority, nomadic, and hunting race who lived in border between Russia China, two World Wars, Russian Revolution, establishment of People's Republic of China, and customs such as language and shamanism that being lost. This theatre music is constructed by songs and unique chorus system, and based on many locality and life of minority groups. According to a certain kind point of view, it can connect to modern Latin American Arts such as García Marchez and could be called Magic realism of North East Asia.
There has been Silk Road on Eurasian Continent from ancient times. We will be Marebito (visitors from afarworld), going and making new ways. Encounters of the Far East music, Asian music, and European music are making new Eurasian ways.
BIOS
JUN KAWASAKI (Composer, Director, Double bass player)
Born in Tokyo,1975. He has performed with many distinguished musicians in and out of Japan. Kawasaki has also composed and performed extensively for theater, dance and Buto about 80 pieces,as a musical director. His major works include music for Camille Claudel,Kenji Miyazawa and Jean-Jacques Rousseau (a dance piece conceived and choreographed by Senrei Nishikawa, a traditional Japanese dancer), About 1hr. 20min. on Oct. 1&2 in Brecht Festival (Japanese theatre company, Port B / Akira Takayama), Hamlet Machine (Heiner Müller) by Adults and Children (produced by SPAC Shizuoka Performing Arts Center in Japan), Madam Edwarda (George Bataille by Japanese traditional Marionette Theater Edo Ito Ayatsuri).
2012, 2013, Kawasaki collaborated with Turkish choreographer Aydin Teker, and made "db-ll-bass" sound, body, and instrument "db-ll-bass" is an attempt to construct a new creative sphere of performance, by reexamining the historical relationship between the body and a musical instrument — the contrabass — and extending both performance possibilities to the other. The piece was premiered in Istanbul, Turkey (Akbank Jazz festival), in October 2012. 2013 was played in Performing Arts Meeting in Yokohama. His representative participation work was "sound migration" which is a contemporary music collaboration between Japan and Turkey by Japan Foundation. The performance in Istanbul was held as the opening in the Istanbul International Contemporary Dance & Performance Festival (iDANS). It will be an original act of creation that cuts off a slice of 'now', the present moment, where the migration of peoples is occurring on a global scale.
And, he has composed and played in a number of works of creation of traditional Japanese traditional dance by Senrei Nishikawa. And performed in many countries. Also, he was invited as a soloist of Dresdner Sinfoniker's brand-new musical theater of the epic of Central Asia with composer Marc Sinan, and worked with traditional Central Asian musician from Uzbekistan, Kazakhstan, Azerbaijan etc. He has joined as an active member in several projects of contemporary music, improvisational performance, and dance in many countries especially Turkey and Russia. Through those activities, he acquired new perspectives to create new international works that reconsider Asia from the view point on the border between Asia and Europe.
Since 2015 he was invited and start to organize Music and Poetic Drama Laboratory at Theater X, Tokyo. 2015 June, Jun kawasaki composed and Music and Poetic Drama Laboratory performed "ORPHANS AND STARS" and collaborated with Israel pianist. In this performance, musicians and actors perform 20 songs. Original texts of each song are mainly from Jewish poet Paul Celan's pieces and Bertolt Brecht's pieces. "The end does not end" was premiere for the 100th anniversary project of the birth of Tadeusz Kantor in 2015 at Theater X, Tokyo. He has performed in many countries and international music and dance festival, including the US, Russia, France, Poland, Ukraine, Lithuania,Taiwan, Korea, Egypt, Hungry, Germany, Switzerland, Liechtenstein and Armenia.
AYA (Butoh Dance)
Graduated from College of Art and Design in Musashino Art University, Tokyo Japan. Studied modern ballet at the Ikuko Kanemitsu Buyoh Gakuen dance school in childhood. Then had deep interest for art, music and literature. As a university student, Aya created art works "Tokeru Shintai – Melted Body" & "Hyousou Hyohonnbako – Signed Specimen Box" with her interest in man's sense organ in festival or performance. Although her lineage is from Tatsumi Hijikata in Butoh or Saburo Teshigawara in contemporary dance, she joined the film "My Name is Hmmm….." directed by agnès b. with Jonas Mekas, Antonio Negri, and Douglas Gordon.
At present, supervising a body workshop at Rakudo-An in Kanda, Tokyo & studying "Butoh" at the workshop "KAYOU KAI" by Tokyo based butoh dancer Mitsuyo Uesugi. Butoh: also initially inspired by rural lives and rituals of the common folk in the Northern part of Japan (home of the Butoh founder Tatsumi Hijikata) that was getting lost in centralized society with emphasis on economy.
CHOI JAE CHOL (Korean traditional drummer & dancer)
Korean drummer name is Changu. Born as a Japan-resident Korean in 1979. He has performed Nongak (Korean traditional music and folk dance) in various settings. Beyond the boundaries of tradition and contemporary music, he created collaboration with Butoh Dancer Min Tanaka, Japanese and Korean traditional music with Kiyohiko Semba, etc. He has a unique project "CHANGO WALK" drumming and walking from Tokyo to Korea, he has made the sound of the drum spreading in the nature echo. In 2016, he perfumed at the Sanriku International Art Festival and collaborated with Japanese folk horse dance (Enburi) and deer dance (Shishiodori). He composed and directed Nongak with pianist Masahiro Sayama in Kawasaki Jazz Festival.
SAADET TURKOZ (singer)
Born in Istanbul, Saadet Türköz is a Kazakh-Turkish singer and composer who currently lives in Switzerland. She grew up in Istanbul, where she first worked as a journalist and translator. Türköz's first recordings were influenced by the folk music of her homeland, East Turkestan; in recent years, her repertoire has widened to include improvised music and modern interpretations of Turkish and Kazakh music. In addition to solo performances, Türköz performs in duos, trios and larger, free improvising formations. She has played with Elliott Sharp, Okkyung Lee, Eyvind Kang, Carl Stone and Larry Ochs, among others, and performed with Paed Conca's BLAST quintet. http://www.saadet.ch/
SEVKET AKINCI (guitarist, composer, improviser, arranger, producer)
Şevket Akıncı has played, composed, and recorded in many musical styles from jazz, country, folk, and classical Turkish, to electronica, punk, and free improvisation. He has performed concerts in many countries with his ensembles and with many outstanding musicians. He has also composed scores for a variety of dance, film and theater projects. In 2005, with Korhan Erel, he founded Islak Köpek, Turkey's oldest free improvisation group; and later created the avant garde Mutant project for seven guitarists. Currently, he gives concerts with Umut Çağlar's Dead Country, Şenol Küçükyıldırım'sWeed projects, and with the Turkish-Dutch improvisation project IstanPOOL. A producer of the Şirin Soysal project, Şevket Akıncı is a lecturer at the Bahçeşehir Jazz School, and a radio programmer. He has also written a book of poetry, Hezeyan Sözlüğü. http://sevketakinci.com/
SUMRU AGIRYURUYEN (singer, improviser, mandolinist)
From the 80's on, Sumru Ağıryürüyen has sung in many projects and performances around the world in styles ranging from traditional to free improvisation. Her solo album, Issız/Solitude features many of her original song-compositions. She recently released a free improvisation album Sert Sessizler/Harsh Consonants with cellist Anıl Eraslan. Recordings with her former groups include two Balkan music albums (Ayde Mori, and Balkan Yolculuğu/Balkan Journey), and Klez-Mez, a klezmer and Sephardic music project. In 2010, she performed and directed programs with outstanding figures in innovative music at the international Ismet Sıral Creative Music Studio. She is also a composer of film scores, including the award- winning Sonbahar/Autumn directed by Özcan Alper. In addition, she is a radio programmer, and a translator of books such as The Little Prince. www.sumruagiryuruyen.wordpress.com
ORCUN BASTURK (drummer, composer, song writer)
As a member of the out-of-the-mainstream music scene, Orçun Baştürk plays in many outstanding groups in Turkey: the avant-rock band Replikas, the recently established G.R.O.S. (Great Republic of South), and the 'folk'n 9 beat and psychedelic Aegean music project' Kırıka. Former groups with whom he has worked include Saska, and İstanbul Blues Kumpanyası. With his various ensembles he has recorded numerous albums and performed at many festivals all over the world. His solo works, 'Chicken Pox Songs' and 'Various Recordings Vol. 1-2' have been released on the internet under the name of Oichuung. He has composed many film and theater scores and played in many live interdisciplinary performances. As a film director, his short films have received awards and been shown at many festivals including the İstanbul and European film festivals. He is also a radio programmer. http://orcunbasturk.wordpress.com/