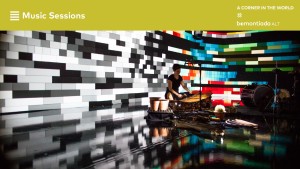 Yer / Place : Bomontiada ALT
Zaman / Time : 20:30 – 22:00
Telefon / Phone : (0212) 230 21 62
Adres / Address : Tarihi Bomonti Bira Fabrikası Birahane Sokak no: 1 Şişli / Istanbul
Where is Bomontiada / Bomontiada harita
A Corner in the World / Dünyada Bir Köşe
Amy Salsgiver invites Nohlab & NOS Visuals
"Re-CONNECT" hayatımızdaki bağlantıların anlamı üzerine çeşitli perspektifler sunar. Müzik yelpazesi oluşturulurken geleneksel perküsyon çalgılarının yanısıra "çöp" olarak tabir edilen malzemeler de kullanılmıştır.
Genç neslin elektronik müzik ve doğaçlama perküsyon için eser üreten bireyleri, Dijital Çağ'daki bağlantısallığın doğasının çok yüzlülüğünü keşfetmektedir. Doğada bulunan matematiksel modellere dayalı, bilgisayarda hazırlanmış görseller, doğal ve yapayı birbirine bağlamaktadır. İmgelerin gerçek zamanlı olarak görselleştirilmesiyle görsel üretim süreci bir enstrümana dönüşüyor ve sesle manipüle edilebilir hale geliyor. Böylelikle performansçılar hep birlikte bir parça yaratıyorlar. Farklı medyalar arasındaki bu simbiyotik ilişki insan ve etrafından dünya arasındaki sürekli değişen ilişkiyi yansıtıyor.
Not: 18 yaş ve üzeri için uygundur.
Etkinlik A Corner in the World X bomontiada ALT kapsamında gerçekleşmektedir.
Ücret: 20TL
—————————————–
"Re-CONNECT" takes the audience through various perspectives on the meaning of connections in our lives. The musical palette is created through the use of traditional percussion instruments as well as so-called "junk" materials.
New compositions by young Turkish artists for electronics and improvised percussionist explore the multifaceted nature of connectivity in the Digital Age. Computer generated visuals with roots in mathematical models of nature connecting natural and artificial. Real time rendering of visuals transforms the visual generation process into an instrument, as well as giving it the ability to be affected and manipulated by sound, complementing the performers into creating a piece together. This symbiotic relationship between different media reflects the ever changing relationship between man and the world around them.
Note: Suitable for 18 years and older.
The event is a part of A Corner in the World X bomontiada ALT.
Ticket: 20TL